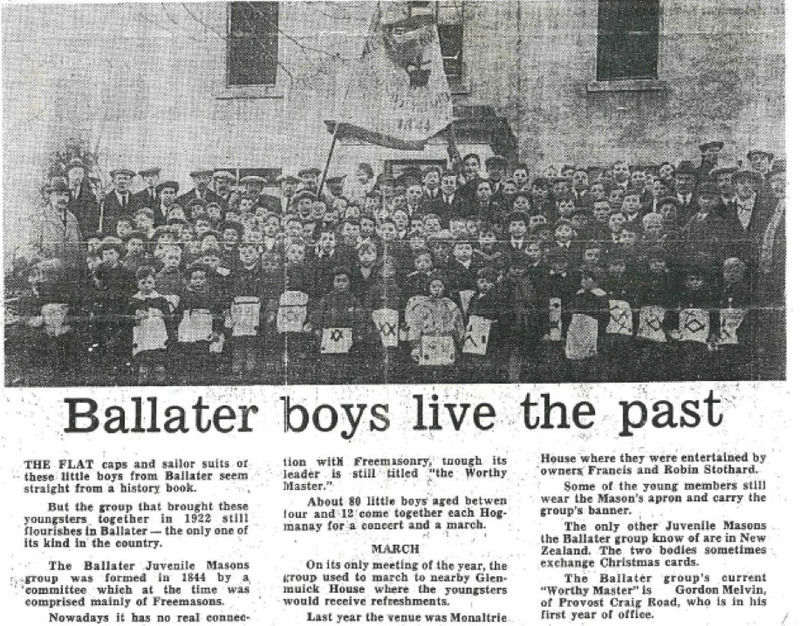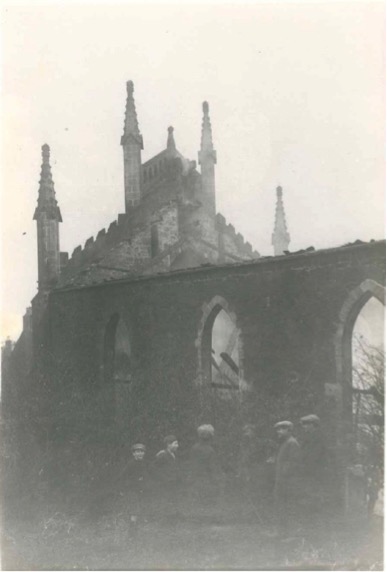 The Martin Church was converted into a cinema in 1927; however, it suffered terrible fire damage after only one night in business.
A Masonic lodge was then later built on the now redundant site.
Rothes No 532 Founded 1873
Lodge Rothes 532
The first step was taken at a meeting of Brethern in the Parochial Office 11th December 1872. Sponsors of the petition were Lodge St John Falkland No 35 and St Cyres, Auchtermuchty No 121, but the Lodge did not get authority until February 1873 (532).
There was a 24 year break between 1884 until 1908, when the Lodge was re-opened.
On the 18th April 1908, the R.W.P.G.M explained that the meeting was consequent on a representation by old members of Lodge Rothes 532 to reopen their dormant lodge.
This authority had been granted by Grand Lodge. It was thereby resuscitated Bro Alexander Gray was installed as R.W.M and other Brethern to the respected offices.
In 1873 when the lodge was first formed and office-bearers installed, William Elder R.W.M the brethern were later marshalled in procession to Leslie House where they were permitted to go through the garden terraces.
Three cheers were given for the Dowager Countess of Rothes neice of the 15th Earl of Rothes Grand Master Mason of Scotland.
George William 15th Earl of Rothes was P.G.M 1838/41.
At Leslie, Complaints and Appeals Committee a brother made of alleged breaches of his lodge's by-laws. He and principal office-bearers of his lodge were interviewed. The latter that at a recent lodge nomination of office-bearers certain brethren had been nominated for office without the consent of the nominees given in open lodge or in writing to the secretary. The committee considered that the Lodge Bye-laws had been broken and the lodge was instructed that nominations proceedings were void and must be carried through in the proper manner.
At Leslie 20th October 1928, the P.G.M consecrated the new lodge room of Lodge Rothes 532.
Bro J.T. Oswald of Dunnikier P.G.M 1888-1893
Office Bearers 2015 - 2016
Right Worshipful Master: Bro. George Johnson P.M
Depute Master: Dave Jackson
Substitute Master: Bro. Raymond Harrow P.M
Worshipful Senior Warden: Bro. Henry Fleetham
Worshipful Junior Warden: Bro. James Farmer P.M
Secretary: Bro. Edward Brown
Treasurer: Bro. David Burns
Chaplain: Bro. Jason Watson
Director of Ceremonies: Vacant
Senior Deacon: Bro. Ian Campbell P.M
Junior Deacon: Bro. John Wilson
Architect: Bro. Michael Hyde
Jeweller: Vacant
Bible Bearer: Bro. Jim Imrie
Inner Guard: Bro. Ian Cooper
Steward: Bro.JamieForrest
Office Bearers 2016 - 2017
Right Worshipful Master: Bro. George Johnson P.M
Depute Master: Bro. John Wilson
Substitute Master: Bro. Raymond Harrow P.M
Worshipful Senior Warden: Bro. Henry Fleetham
Worshipful Junior Warden: Bro. James Farmer P.M
Secretary: Bro. Edward Brown
Treasurer: Bro. David Burns
Senior Deacon: Bro. Ian Campbell P.M
Junior Deacon: Bro. Jason Watson
Bible Bearer: Bro. Jim Imrie
Inner Guard: Bro. Ian Cooper
Architect: Bro. Michael Hyde
Director of Ceremonies: Bro. Alistair Deas
Org: Bro. Neil McCulloch
Steward: Bro. Robin Hynd
Office Bearers 2017 – 2018
Right Worshipful Master Bro. George Johnson P.M
Depute Master Bro. John Wilson
Substitute Master Bro. Henry Fleetham
Worshipful Senior Warden Bro. Raymond Harrow P.M
Worshipful Junior Warden Bro. James Farmer P.M
Secretary Bro. Edward Brown
Treasurer Bro. Alistair Deas
Chaplain Bro. David Burns
Senior Deacon Bro. Ian Cooper
Junior Deacon Bro. Robin Hynd
Architect Bro. Ben Greenhorn
Director of Ceremonies Bro. Jason Watson
Bible Bearer Bro. Jim Imrie
Inner Guard Bro. Steven Delargy
Steward Bro. James Hynd
Org Bro. David Jackson
Office Bearers 2018 – 2019
Right Worshipful Master Bro.Henry Fleetham
Depute Master Bro. John Wilson
Substitute Master Bro. David Jackson
Worshipful Senior Warden Bro. Fred Robb
Worshipful Junior Warden Bro. James Farmer P.M
Secretary Bro. Edward Brown
Treasurer Bro. Alistair Deas
Chaplain Bro. David Burns
Senior Deacon Bro. Ian Cooper
Junior Deacon Bro. Robin Hynd
Architect Bro. Paul Muir
Director of Ceremonies Bro. Jason Watson
Bible Bearer Bro. Jim Imrie
Inner Guard Bro. Steven Delargy
Steward Bro. James Hynd
Org Bro. Vacant
Office Bearers 2019 – 2022
Right Worshipful Master Bro. Henry Fleetham
Depute Master Bro. John Wilson
Substitute Master Bro. James Farmer P.M
Worshipful Senior Warden Bro. Fred Robb
Worshipful Junior Warden Bro. Ian Cooper
Secretary Bro. Edward Brown
Treasurer Bro. Alistair Deas
Chaplain Bro. Vacant
Senior Deacon Bro. Jason Watson
Junior Deacon Bro. Robin Hynd
Architect Bro. Vacant
Director of Ceremonies Bro. David Jackson
Bible Bearer Bro. Jim Imrie
Inner Guard Bro. Paul Muir
Steward Bro. James Hynd
Org Bro. James Rigby
Office Bearers 2022 – 2023
Right Worshipful Master Bro John Wilson
I.P.M Bro. Henry Fleetham P.M
Depute Master Bro. David Jackson
Substitute Master Bro. James Farmer P.M
Worshipful Senior Warden / Acting Secretary Bro. Fred Robb
Worshipful Junior Warden / Acting Treasurer Bro. George Johnson P.M
Chaplain Vacant
Senior Deacon Bro. Ian Campbell P.M
Junior Deacon Bro. Paul Muir
Architect Vacant
Director of Ceremonies Bro. Jason Watson
Bible Bearer Bro. James Imrie
Inner Guard Bro. Robin Hynd
Steward Vacant
Organist Bro. James Rigby